Now that the holidays are over – what's next?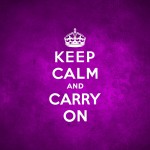 Back from the break and thinking how to re-adjust into the routine… it's not just you, all of us are in the same boat.
It is quite common to experience withdrawal symptoms after the holiday season. Christmas and New Years often just change our surroundings, thus adding a unique flavor of festivities and new beginnings. We are so engaged in our daily activities that sometimes we don't notice how the season is playing a seemingly natural role to elevate our spirits.
Most of us are so excited that we have our break planned out even before it begins. Family time, treats, gift shopping, catching up with friends and making New Year resolutions are some of the highlights of what's on the cards. It sure keeps the credit card bills coming! The month flies by fast as we juggle work, school and indulge in the holiday verve.
As we look forward to summer and shenanigans, here are three very simple things that we can put into action to maintain the happiness and energy in our lives: 1) Get your sleep: Most of us come back with a changed sleep pattern. Late night movies and waking up mid-day is no longer affordable. In fact to function well in the 8 hour work shift and the school routine, it is always preferred to get a minimum of 6 hours of sleep. American Psychological Association talks about sleep benefits and how it makes us happier, healthier and safer. 2) Eat healthy: It is time to enforce the widely acknowledged quote, "A healthy body is a healthy mind." It is about time to say no to fast food, heavy dinners and carbonated sugary drinks. Cheat time is over and now green leafy vegetables, home cooked meals and plenty of water is the way to go. BBC's Good Food magazine's Nutritionist, Kerry Torrens suggests food to keep away the winter blues in the article, "What to eat to stay healthy and happy".3) Work out: One of the most commonly made resolution is to exercise and stay fit. Plan to accomplish the goal this year. Set up that gym routine and take time out of your schedule, go for long walks. Don't be a couch potato and burn those calories. The benefits of exercising are innumerous, common ones being improved metabolism, protection from diseases and living longer healthier lives. For more details on the merits of physical activity you can read, The Benefits of Physical Activity by Harvard School of Public Health.
So what are we waiting for – You only live once (Living healthy and happy)
Areej Shah has been working as the Marketing Coordinator at Grade Learning. She shares her passion for communication and writing through informative social media posts and blogs. She wishes to establish a career in digital marketing prior to fulfilling her dream of exploring the world.