Summer: Boundless opportunities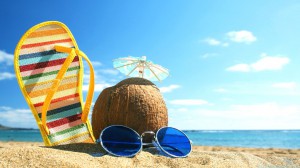 Summer, the word is enough to make one think about color, sunshine, outings and ice-cream. The season just stirs emotions of happiness and brings about positivity. Finally you see the splendid sun shining, temperatures rising, people planning days at the beaches and trips to cottages. The school year ends and yes, the summer holidays begin!
Everyone has plans on how to make the most out the season. Here are few tips on how students could be productive and have fun at the same time.
1) Volunteer: While it is good to watch movies and catch up with sleep, summer is a great time to volunteer too. There are innumerous organizations within the Peel region where you can devote some of your time to social work, learn some soft skills and make new friends. Some of these volunteer hours will also contribute towards your Ontario Secondary School Diploma (OSSD). 2) Work experience: Those few extra bucks in the pocket don't hurt, do they? We always have our eyes on something new in the mall, be it a new x-box game, an accessory, a small gift for loved ones. All these extra dollars could be a good resource to fulfill these small needs. Students who gain any type of work experience have a better shot at part time jobs in universities. It is always good to stay involved and you never know that your new acquaintance might be so impressed that he might employ you in the future. Work always keeps you disciplined, creates a sense of responsibility and develops you into a mature adult. Ethics are reinforced and communication skills are acquired. Peel District School Board offers a career section where one could look for opportunities and this is just one of the many resources available. 3) Take up some hobbies: Summer is a good time to indulge yourself in learning something new. It may be a hobby you want to pursue and just haven't got the time to start or it may be something totally out of the blue. Learning to play the violin, picking up a dance routine, yoga or gymming to stay fit, there are loads of options to choose from. One just needs to get started and it's a smooth sail beyond that. 4)  Finish some courses: For students who want to get ahead in academics, summer is the best time to take up some courses. Summer school will help you stay in touch with studies and reduce your workload in the academic year. It is a good option for students who wish to lighten their burden and focus on a few courses as opposed to trying to just survive in all. Doing good in summer school will further boost your morale and motivate you to keep performing in school. Grade Learning offers summer classes in centres as well as online where you can work at your own pace from home itself.  Most would agree that this isn't a bad option at all, how about you?
Areej Shah is a graduate from the BBA program, University of Toronto. She currently works as the Marketing Coordinator at Grade Learning and shares her passion for communication and writing through informative social media posts and blogs.